Swedish All Time Lists for Men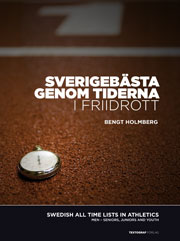 The book "Swedish All Time Lists for Men" ("Sverigebästa genom tiderna i friidrott") is a unique compilation which includes deep all-time-lists for seniors (up to top 1,000) in all championship events. A total of 22,000 personal records. The lists includes mark, name, club, date of birth, venue and date of competition. There are also shorter lists for juniors and youth, from age 14 to U23. The U20 lists are 100 deep.
In the book you will find names lika Mustafa Mohamed (3000 m Steeplechase), Johan Wissman (400 m), Stefan Holm (High Jump), Christian Olsson (Triple Jump), Anders Gärderud (3000 m Steeplechase), Patrik Sjöberg (High Jump), Kjell Isaksson (Pole Vault), Gunder Hägg (1500 m) and many others.

Bengt Holmberg published his first edition of "Swedish All Time Lists for Men" in 1998. In this revised and updated version he has also extended the lists in the following 13 events with additional old results: 800 m, 1500 m, 3000 m, 5000 m, 10 000 m, 3000 m Steeplechase, Long Jump, Shot Put, Discus Throw, Hammer Throw, Javelin Throw ("old" implement), Pentathlon and Heptathlon indoors.
The 800 m list includes more than 1,000 athletes, or everybody with a sub-1:55.10 personal record. The (Old) Javelin list now goes to 62 meters, which means four time Olympic Javelin Throw champion Eric Lemming's 62.32 from 1912 is included.
In the juniors and youths lists, the section U23 is completely new as are the decade lists. The decade lists includes All-time Top-10 in all championship events at the end of each decade 1909–2008.

About the compiler
Bengt Holmberg was born in 1942 in Stockholm, but grew up at Lidingö, an island close to Stockholm. The family Holmberg lived next to the family Gärderud, who had a son, Anders, four years younger than Bengt and in 1976 Olympic gold medallist at 3000 m Steeplechase.
Holmberg was seven when he, in 1949, watched his first track meet. Four years later, he compiled his first statistical piece. From 1973 to 2007, Bengt was responsible for the male juniors och youths lists in the annual "Sverige Bästa". In 1998, he published his first edition of "Sverigebästa genom tiderna". Holmberg is also a member of the ATFS (Association of Track & Field Statisticians) since many years.
For 20 years, from 1965, Bengt worked in the shipping business. In 1985, he was recruited by the Swedish Athletic Association as Competition Manager, a position he held until retirement in 2002.
Since 1966, Bengt Holmberg lives at the small island of Stora Essingen in Stockholm.

The book
Hard cover, 664 pages, 170x240 mm. Introduction, explanations and subheadings in english.

$103 (732 SEK) outside Europe (including postage and shipping).
EUR 72 (687 SEK) within Europe (including postage and shipping).
EUR 55 (533 SEK) within Sweden (including postage and shipping).

Order the book by sending an email to order@textograf.com
Or call: ++46 709 99 51 04 (Jonas Hedman).
Pris: 299 kr (inkl. moms plus porto)